If you're anything like me I'm always looking for something to pack for lunch. Of course, there's always the dinner leftovers to pack, but ugh…sometimes that gets a little old. Enter…SALADS IN A JAR! These little guys are macro power houses and completely customizable once you get some of the basics down.
This is my to-date favorite (could possibly change tomorrow, you never know!) Fiesta Chicken Quinoa is a bit of south-western spunk right in the middle of your day. This recipe has been modified from the original to make it more macro-friendly, but the original recipe can be found here: Quinoa Salad-in-a-Jar in 4 International Flavors.
This recipe has already been added as a food in MyFitnessPal – if you are making the recipe exactly as laid out, then you can save a ton of time and pull this in immediately in your Diary! Just search for "MacroRx+" in your Diary and our recipes will come up.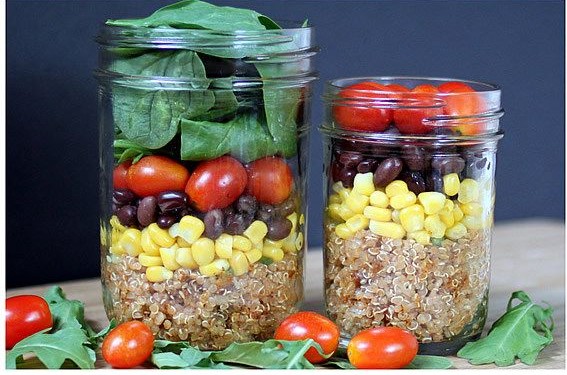 Fiesta Quinoa Jar Salad
Ingredients
Dressing
8

g

olive oil

1

Tbsp

white wine vinegar

1/4

tsp

Salt

3

g

Ground Chia Seed

5

g

Taco Seasoning
Salad Ingredients
36

g

Sweet Corn Kernels

Frozen or Canned

42

g

Black Beans

Canned and Rinsed

11

g

Picked Jalepeno pepper slices

45

g

Cherry Tomatoes

85

g

Chicken Breast (Cooked)
Instructions
Grab a 1 pint (2 cup) mason jar. Combine the dressing ingredients in the bottom of the jar, stirring them with a fork. Fill it with

80 g

of cooked quinoa. Use the fork to toss the dressing with the quinoa until well combined. Level out the quinoa for an even bottom layer.


On top of the quinoa, layer the salad ingredients in order as listed: corn, black beans, jalapenos, tomatoes, and finally the chicken. Measure out the baby spinach and place in a separate container or Ziploc bag.


Put a lid on the jar and refrigerate. Salad should stay fresh for approximately 4-5 days, depending on the freshness and type of ingredients used.
Time to Eat!
When ready to eat, empty your bag of greens into a bowl or plate. Pour the quinoa salad on top of your greens. The dressed/flavored quinoa serves as the dressing for the greens.


Eat Hot or Cold! Although these are normally eaten cold; if you prefer a hot version, you can heat the jars (without the greens) in the microwave for 1-2 minutes; stir and eat right out of the jar.